I bet you're a Highly sensitive, Fem-preneur Coach who's Hiding in Your Laptop Cave because it feels a lot safer than being Seen in your Power.  But you're not reaching enough clients!!  Am I right?   I can relate- because that was me!
As I ease OUT of my laptop cave– fully expressing ME and Get More Visible,  I'm actually ENJOYING sharing my Message and – it's way easier to Make Money!  

Wouldn't it be nice to:

let go of your Fear of Being Seen,
feel more Confident Being Heard and
spread your Transformational Message using Video so you can make Money sharing your gifts?  
It is my PASSION to help you do that!
***
Here's what some of my happy clients are saying:
Tabby Biddle on her VIP Coaching Experience.
Lyena Strelkoff on her VIP Experience.
***
"What an incredible experience stepping into more video confidence!"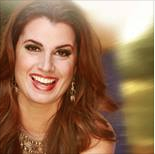 "Michelle was an amazing Video Visibility Mentor when shooting my 5-part video activation series about Prosperity Branding. Wow! What an initiation into making multiple videos at once, and she stood beside me the whole time bringing in the encouragement, helping me get into my body and circulate my energy, and keeping my thoughts organized and positive so I could complete them…because when I began, I wasn't feeling terribly excited to show up for-the-world and talk my talk. But what an incredible experience stepping into more video confidence for online. I know my Prosperity Brand will grow from making these movies, and I'm so blessed to have her help in getting them done! Thank you so much, Michelle!"
Lucinda Kinch, Prosperity Branding Mentor & Intuitive Website Designer LucindaKinch.com
"My videos are up-leveled in a whole new way!"
Michelle TOTALLY helped me get over some fear I had around video editing. Before I worked with her, I would do 10-20 takes of a video, so that I could get the WHOLE THING done in one shot because I didn't know how to edit! Michelle helped me to learn how to splice takes together, to add music, to add titles, and more. Now I feel like my videos are up-leveled in a whole new way! Thanks Michelle!
Heather Jernigan, HeatherJernigan.com
Michelle Hart
Your Video Visibility Mentor

FREE Video Training:"3 Playful Practices to Pop Your Visibility" + Video Script Template!


I value your privacy and will never share your email.